A couple of weeks ago, I got to visit with my cousins from Montgomery, Alabama. My cousin
Michael Henig
plays starting Quarterback for the
Mississippi State Bulldogs
, so I was in Starkville, Mississippi for a Thursday night LSU game. It was wonderful to stay with the family and tailgate a bit.
The game was enjoyable, even though the Dawgs got blown out pretty bad. (It's okay, Michael led the Dawgs to a really good game the next week!!!)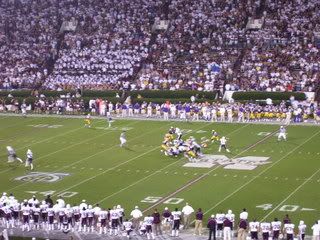 As wonderful as it was, the family visit was only the beginning of an extraordinary weekend.
On the way back home on Friday, my car started making some funny noises. It was like the fan had gotten loose somehow and was rattling against the housing. Since there was no indication of any other problems like overheating or lost oil pressure, I started looking for an exit rather than pulling over immediately. Well, I heard a "pop" underneath the car, and immediately found that I had zero power, so I pulled over. I was about a mile from exit 81 on Hwy 78 in Tupelo.
I took a look underneath the hood and found that I had very little oil on the dipstick. When I pulled the dipstick though, there were still no signs of overheating to be found. So I decided to walk to the exit and over to the nearby truck stop. I hadn't made it but about 25 yards before a motorcyclist stopped for me. Since he didn't have an extra helmet, he couldn't give me a ride, but a man in a pickup truck stopped less than thirty seconds later to give me a ride to the truck stop.
Amazing but true, no one in the truck stop could give me any ideas as to where I might find a good mechanic. I made my way across the road to
Belden Baptist Church
, where I met a man by the name of Kelly McGinnis. This kind man gave me a ride to a reputable mechanic's garage--
Tri County Auto Repair
--just a few short miles away. Nick and John Hazel were more than gracious and helpful. They took me out to my stranded car to find the problem. When it sounded like the car wasn't gonna' make the drive, they got a tow truck for me. When I got back, Kelly was waiting for me with money for an overnight motel stay. He couldn't stick around very long, but he had Nick and John drive me over to the motel and he called in the bill on his card.
After a good night's sleep, I started making some phone calls to try to get home. My first shot was trying to find a Harding student in the area who might be going home. So I called some area churches, but didn't have much success. However, the folks I talked to were more than helpful, many offering a place to stay the night, or to help find one.
I finally ended up staying in the household of Mark and Julie Halbert. What an outstanding couple! The two of them and their three boys made for an exciting stay, playing Wii games and talkin' and jokin' the whole time. They took me out for dinner that Saturday night and brought me to worship on the Lord's day the next morning.

Lee Acres church of Christ
. Now THAT'S a good congregation, right there. Their hospitality knows no bounds. Brad Carman preached that morning and taught the auditorium bible class--a class on benevolence. Kirt Hunt, Glenn McCullough Jr., and Jerry Grammer, among others, were quick to step in and lend a helping hand. I thank you from the bottom of my heart for all of the loving kindness you showed me.
That Sunday,
Jeff Montgomery
drove out with his Suburban from Searcy, AR to pick me up and tow my car on a UHaul trailer. Boy was THAT an interesting ride. For those who have never towed a car on a car trailer, let's just say that you have to get used to swayin'! We got back in time to drop off the trailer and get back to the jail by 7:30 that night--and Jim Galyan came back to his ministerial stomping grounds to cover for us early, so we wouldn't be behind the eight ball that night.
Since this blog entry is already rambling, I'm gonna' go ahead and cut it short, but not before I thank a few people by name:
Chad and Beverly Ramsey, and Russell and Rennie Smith. These two couples helped a lot by just being able to direct me to someone to stay. Both Chad and Russell were out of town, so staying in their homes wasn't gonna' work for obvious reasons, but they gave me Marlin Williams and Mark Halbert to talk to. Marlin was out of town, but he came up with Mark's name as well. Guess what, Mark, you came highly recommended! I also want to thank Anita Llewellen for her help. Jeff Kreh, you came up with some good ideas as to locating folks in the area.
Thanks especially to Jeff Montgomery, who went well out of his way to help a friend in need. Thanks, bro!
Boy. What a weekend.